Faith, Love & The Working Genius
This event is guaranteed to give you common language & insight into how each of you approaches work & how that influences the way you work together!
Faith & love are as practical as they are spiritual.
In marriage, we can all benefit from ongoing learning & some "Aha" moments about each other that can lead you to:
more grace
better communication
improved collaboration
connection
NEXT WORKSHOP: TBD 10:00am – 12:00pm
WHERE: VIRTUAL (Zoom)
ASSESSMENTS: Working Genius Assessment licenses provided via The Table Group. 
PRICING: $185/couple
The Working Genius is Patrick Lencioni's (& The Table Group) newest teamwork helping people realize where they best contribute at work.
AT A GLANCE:
There are SIX ACTIVITIES needed for doing any kind of work and each one is equally valuable and required for getting work done.
We all have Two Geniuses, Two Competencies and Two Frustrations defined as follows:
Working Genius indicates your natural ability; what brings you joy and fulfillment. It consistently gives you energy.

Working Competency

indicates what you can do well but are not fulfilled by. Over time this drains your energy.

Working Frustration indicates what you dislike doing and find draining, even if you've learned to be capable at it.
Take a look at the Six Geniuses and their corresponding Stage of Work.
1. Wonder
People with Wonder may ask, "Is there a better way?" They love to sit and imagine the possibilities. 
2. Invention
People with the Genius of Invention get joy from taking ideas and brainstorming solutions. 
Ideation
Wonder and Invention are the beginning for any kind of work.
3. Discernment
People with the Genius of Discernment have a natural ability to evaluate the workability of ideas and give people good feedback.
4. Galvanizing
People with the Genius of Galvanizing love to get things going by rallying people around an idea and moving them in the right direction.
Activation
Discernment and Galvanizing are key components before the take-off of any idea.
5. Enablement
People with the Genius of Enablement are the ones who make things happen. They know how to help, when to help, and can flex to what needs to happen in order to help realize a vision. 
6. Tenacity
People with the Genius of Tenacity are task-oriented and love to take things across the finish line. They ensure it's going to have the impact it's supposed to have and lives up to agreed-upon standards. 
Implementation
Enablement and Tenacity are necessary in order to turn our dreams into realities.
Not Just Another Assessment
The Working Genius assessment is 20% personality and 80% productivity. People who understand their genius show up to work happier, are more effective, and play well with others.

Benefits to Your Marriage
Shared Learning Experiences Create Common Ground!
I believe any shared learning experience will benefit your marriage because it gives you a neutral & safe environment to talk about things you may not have otherwise talked about.
Understand Each Other in the Context of Work!
"Why don't they see it like me?" or "Why don't they understand how important it is to…?" These are questions we often ask at work and also at home.
Understanding our own Geniuses helps us to alleviate guilt about struggles we all have with certain types of work. It also helps us to be less judgmental with each other when we know what gives them joy vs. what drains them.
No more 'Conversation Stew' - Clarify & Improve Communication!
We've all had conversations where we didn't know what it was we were trying to accomplish or we were actually trying to accomplish completely different things.  
Maybe we've walked away from the same conversation wondering what we actually decided on or we walk away thinking we're on the same page but in reality we have come to very different conclusions.
The Working Genius helps to improve dialogue by helping us understand that there are SIX different activities of work and we naturally gravitate to two of them – our Genius. This means we typically approach a conversation/work from the perspective of our Genius.
The Working Genius gives you context, language and hopefully a shared permission to clarify what activity of work are we in…or to ask what activity/perspective your spouse is operating from. 
This kind of clarity can be game changing for your communication.
Regulate Your Genius & Contribute Where Needed!
Knowing what activity we are in, can help us participate at a level that's needed and relevant for the current context/activity of work we are actually in.
We need all six activities in order for work to be done BUT we don't abdicate responsibility for work that is outside our Genius. Instead, we regulate our Genius, having the awareness to recognize and step into the activity of work that is currently needed.
Bring Working Genius to Your Business
Work doesn't need to simply be a means to an end. It is possible to increase the level of satisfaction and joy that you and your team experience at work!
I want to help you achieve this and realize your collective potential!
That is why I have completed the Working Genius Certification Training offered through the Table Group. As a Certified Working Genius Facilitator, I have received hands-on training from the Table Group team and am equipped with the tools and resources to help people like you leverage the Working Genius model for you & your organization.
Send me an email and let's begin the conversation towards a more enjoyable & effective work life.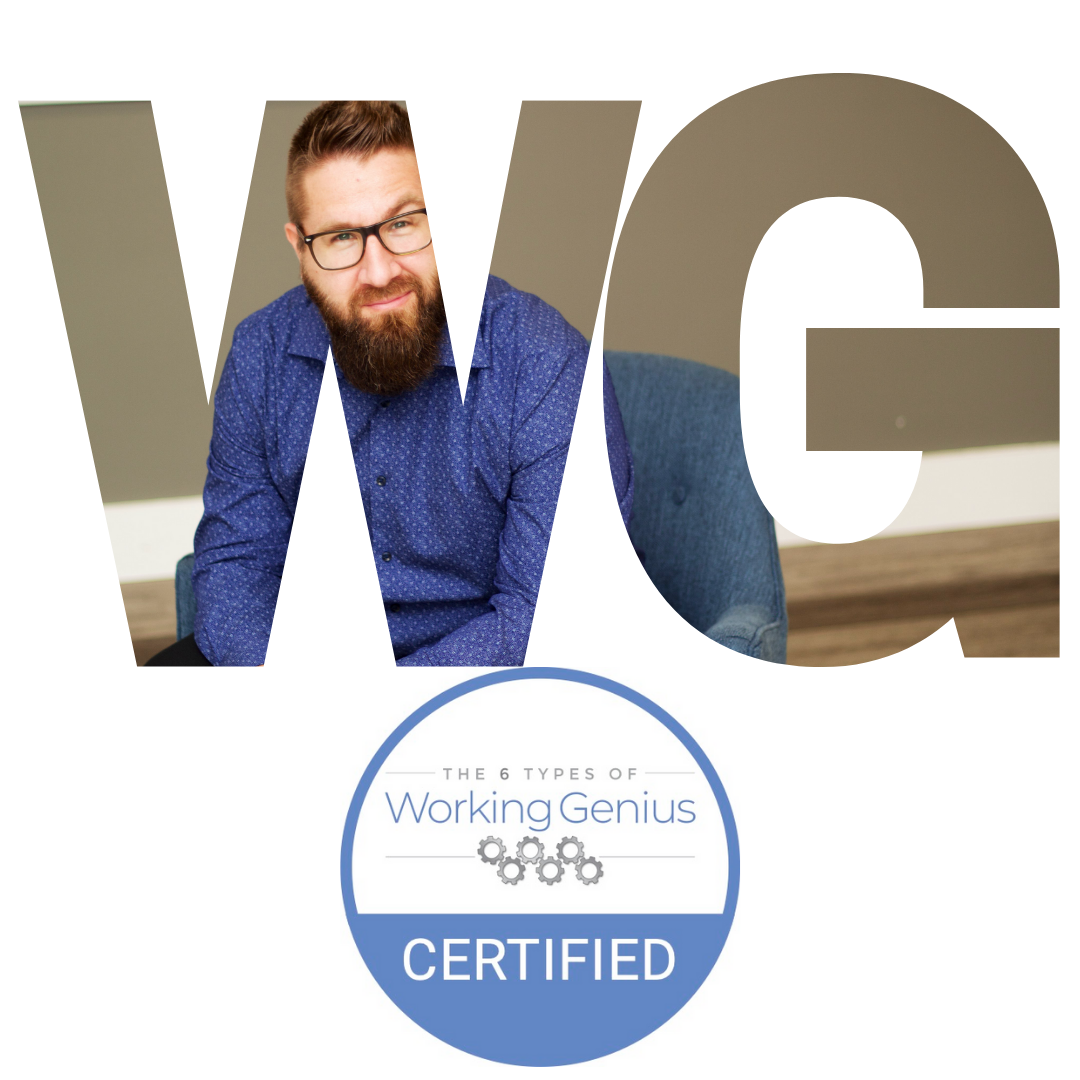 About Patrick Lencioni & The Table Group
The team at the Table Group has been working diligently to change the world of work. At the core, they believe work is meant to be dignifying and that God created each of us to contribute to the world in a unique way. Over the years, they've developed tools and models to help make organizations healthier and more successful and teams more effective and cohesive. Books like The Five Dysfunctions of a Team, The Advantage, and The Ideal Team Player, were all parts of a larger endeavor to transform the world of work.
The Six Working Geniuses is Pat and the Table Group's newest model that has evolved from their own experience, frustrations and client interactions. It is quickly proving to resonate with organizations abroad and making a difference in how teams operate.